Search for policy, media releases and more
The COVID-19 lockdown has highlighted century-old regulations slowing down commerce. The ABA is currently working to enable people to get a mortgage and do business digitally, including using electronic signatures.
Governments have enacted emergency regulations during the pandemic to allow essential transactions to occur electronically. Those changes should stay for the benefit and convenience of people and businesses.
Customer benefits: e-transactions & e-signatures
Faster turnaround times
Accessibility options for people with disabilities
Additional security features
Convenience and less runaround
---
Electronic transactions
The need for paper signatures and for documents to be witnessed in person have created delays and other difficulties for people and businesses. This includes difficulties in having documents witnessed in person, delays in receiving documents by post, and signing documents while in quarantine. Many of these delays and costs were exacerbated by, but not limited to the pandemic.
Key changes sought: e-transactions
Deeds should be able to be created and signed electronically.
Electronic signatures rather than paper signatures should be able to be used for a broader range of legal and business documents.
Remote witnessing should be legally valid.
Emergency changes should be made permanent.
---
Reforms in progress: e-transactions
Government

Emergency legislation
enabling reforms
Emergency
reforms
Permanent
reforms
Commonwealth

Yes

Yes

No

VIC

Yes

Yes

No

QLD

Yes

Yes

No

NSW

Yes

Some

No

SA

Yes

No

No

TAS

Yes

No

No

WA

No

No

No

ACT

No

No

No

NT

No

No

No
The Commonwealth Treasurer has issued a determination that allows split electronic execution of company documents.
NSW has passed emergency regulations allowing documents to be witnessed remotely, and has legislation that enables broader reforms including electronic deeds.
Victoria and Queensland have passed emergency regulations to allow electronic signing and remote witnessing for all documents, including deeds and mortgages.
South Australia and Tasmania have passed emergency legislation, but are yet to implement e-transactions changes.
These changes will expire between October and November. The ABA and our coalition partners are calling on the Commonwealth and State Governments to make these changes permanent.
---

---
Paperless mortgages
Mortgages can be electronically lodged with the land registry in many states. However, paper signature and in-person witnessing is still required for the counterpart mortgage: the copy of the mortgage kept by the bank and not lodged with the registry. The regulations vary between states and territories.
As society returns to business as usual, enabling banks to offer fully paperless mortgages as a normal business practice will create economic efficiencies and make banking more efficient for people and businesses.
---
Key changes sought: paperless mortgages
Removing the requirement for the counter-mortgage to be signed by both mortgagor and mortgagee.
Removing the requirement for signatures to be witnessed.
---
Reforms in progress: paperless mortgages
A number of State (NSW, QLD, SA and WA) land registrars have temporarily allowed electronic signing and lodgement of documents.
The ABA is working to ensure the counterpart or corresponding mortgage can also be fully electronic.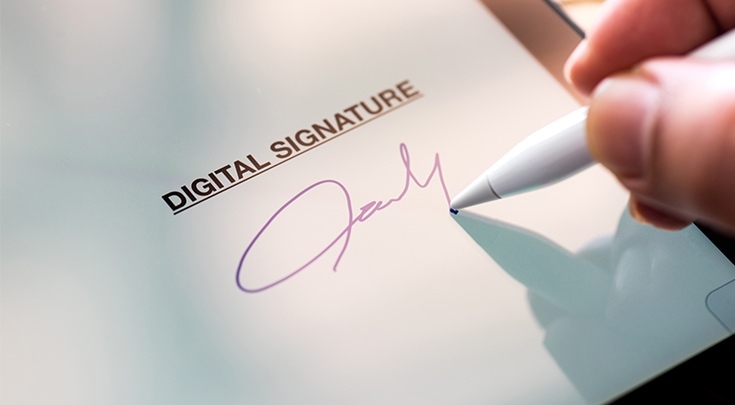 Quotes: what our partners in reform are saying.
---
Legal partners in reform


---