Search for policy, media releases and more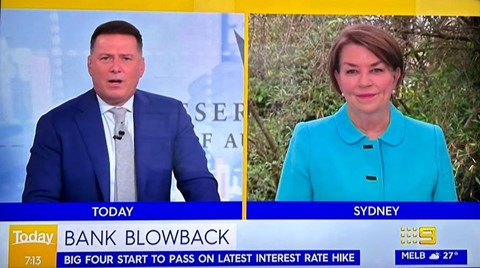 KARL STEFANOVIC: Well, they tell us they care but we're still yet to see any of our major banks give Australian families a break on interest rates amid a deepening cost of living crisis. Calls now growing for the big banks to hold off on passing on rate hikes, and grant us all a reprieve. The CEO of the Australian Banking Association. Anna Bligh joins us now. Good to see you. Thanks for your time today. Good to be here. The Telegraph this morning called you all a bunch of bankers. That's about right, isn't it?
ANNA BLIGH: Well, I think it's fair to say, Kyle, that many Australians really are starting to feel the pinch, high inflation and high interest rates. But that's precisely what the Reserve Bank is trying to do. They're trying to change our behaviour, so that they can pull inflation back. And that is going to be very uncomfortable for many, many people. But until we start to see inflation come back, monetary policy is designed to make things uncomfortable, so that we stopped spending, slow demand in the economy, bring inflation back, and then we can start to see interest rates stabilise, and hopefully start to come back.
KARL STEFANOVIC: Okay, so the banks are just doing it for the country now.
ANNA BLIGH: Well, that's a cynical way to say it Karl. But I think it's really important to understand that if the reserve bank can't get inflation down, they're just going to have to keep putting rates up. So we've got to get that behaviour change that sees spending moderated. And we are starting to see that we started in December sales at Christmas period, a slight drop off in spending, we're seeing a drop off in lending for renovations, that is the beginnings of behaviour change. If that is, bedded in, then we'll start to see the Reserve Bank take a very different view.
KARL STEFANOVIC: Well, these rate rises, the banks have a gleefully and in a very expeditious way passing on, help tip the country into recession.
ANNA BLIGH: That is something that the Reserve Bank is really looking at, I think and taking into account every time they meet, the minutes of their meetings is telling us that they're very mindful that they don't want to go too far. But they will keep doing what they need to do to bring inflation down. It's how the system works. So we've got an independent Reserve Bank, they're charged by the government of the day to bring inflation and keep it under control. Right now, globally, it's rising, and we've got to pull it back.
KARL STEFANOVIC: The problem is, I think most Australians, hardworking Australians Look at this. And they say, rightly so you've lifted rates twice as fast as you cut them quick to hike slow to slice.
ANNA BLIGH: Well, what I can say is that many, many customers benefited and are still benefiting from very low rates during 2020 and 2021, when many of them did the smart thing and fixed their loans. So when you say banks didn't cut rates, they did cut rates, not some of the standard variable rates at the same pace but most customers are not paying the standard variable rate, they're paying a fixed rate, or they or their mortgage broker have negotiated a discounted rate, sometimes even less than the RBA lift. So it's a bit more complicated than I think it's being portrayed in the Telegraph. But it's also very competitive out there right now. In the last six months 220,000 Australians switched their loan to a better rate. So they're shopping around. And what I'd say to all your listeners, go and look for a better rate, ask your bank for a better rate. But if you feel that you might be in trouble, now is the time to start talking to your bank. They've got a lot of tools in the toolkit. And they they're there to get people struggling. And the last thing they want is to get see people in trouble.
KARL STEFANOVIC: So the banks aren't in any way shape or form expanding profits by manipulating the pace of reductions and rises.
ANNA BLIGH: No banks, of course, make a profit and those profits, many of those profits go into the superannuation of Australians
KARL STEFANOVIC: Is that a no they aren't expanding profits, or is that a yes, they are expanding profits?
ANNA BLIGH: Well, we haven't seen the profit announcements of Australia.
KARL STEFANOVIC: Let's take a guess. I guess hundreds of billions.
Well, they will make a healthy profit, and that's a good thing for the country. Their profits are going into your superannuation fund, and the superannuation funds of hundreds of 1000s of Australians and I don't think Australia wants an economy with failing banks.
KARL STEFANOVIC: Forgive me for not celebrating. Okay, given all of this. I can ask you this this morning. Why haven't the banks passed on those bulging rates to the people who have savings accounts? Why haven't they done that?
ANNA BLIGH: Banks have in fact increased the rates on savings accounts very dramatically in the last 12 months. Some banks have had more than fifty increases. This time last year, banks were paying on average 0.3% on savings account, they are now paying 4% or more. So 0.3 to 4%. And those increases are paid within a week of being announced or sometimes two weeks, whereas the interest rate on your mortgage takes three months to hit your four for series a difference. All of the major banks have a minimum of 4% on term deposits. Some of the smaller banks have got even higher than 4% all savings accounts, it's time to shop around. There are different types of savings accounts, so you get a better rate. If you have a term deposit, for example, if you have a term deposit that you want to withdraw from, you'll get a slightly lower rate. There are many, many products out there. But comparing the same product from this time last year, this time this year. I will tell you that, self funded retirees and people who are funding their lives from those savings are getting a much better deal after 10 very lean years where they were doing it tough while mortgage holders were getting very, very cheap money.
KARL STEFANOVIC: You're on a hiding to nothing Anna but at least you're at the front. Good on you. Thanks for being with us.