Search for policy, media releases and more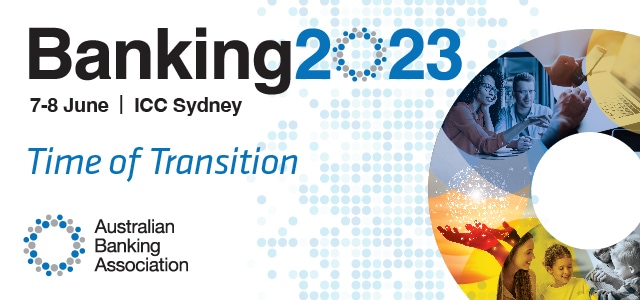 As technological advancements and changing consumer trends drive the digital economy, the future of banking is in the spotlight.
While digital innovation presents many opportunities, the banking landscape also faces strong economic headwinds plus the demands of the transition to net zero, the next phase of the transformation of the payments system, and an increasingly sophisticated scam and cyber threat environment.
Join Australia's banking leaders and industry experts for the ABA's Banking Conference – Banking 2023: Time of Transition – for two days of insights and analysis to help you navigate this dynamic and uncertain landscape.
Banking 2023 – Time of Transition

Day 1: Wednesday 7 June
Registration open from 8am

Welcome and official open

Welcome To Country
Indigenous Land Council Leader

Future Focus for the Banking Industry
– Peter King, Westpac
– Marnie Baker, Bendigo
– Anna Bligh, ABA

Panel: Role of Regulation in Uncertain Economic Times
– Joe Longo, ASIC
– John Lonsdale, APRA
– Michelle Bullock. RBA

Panel: Global Impact, The Path Forward
– Ben Jarman, JP Morgan
Additional panellists to be advised

Fireside chat: Digital Transformation


– Duncan Taylor, Microsoft
– To be advised

Panel: Climate Transition

– Andrew White, Baringa
– Graham Sinden, APRA
– Alexander Pui, CBA
– Mark Burgess, Bendigo and Adelaide Bank
– Paul Dobbs, Suncorp Group

Panel: Operational Resilience 
– Edward Emanuel, Oliver Wyman
– Mandy Khanna, MyState

Impact of the Quality of Advice Review
– Michelle Levy, Allens

Fireside Chat – Competition and Fairness

Stream 1: Payments 
Lessons from Europe
– Ben Matthews, Baringa

Stream 2: Climate
NetZero, principles for responsible banking


Stream 3: Scams and Fruad
Hi Mum- Scams Responsibility
– Natalie Faulkner/ Harriet Tennet, KPMG

Stream 1: Payments
Digital Assests, secure lending and enforcement
– Lee Pascoe, Norton Rose

Stream 2: Climate
Future of agri in climate transition

Stream 3: Scams and Fruad
Cybersecurity deep dive
– Sarah Carney, Chief Techinical Officer, Microsoft

Stream 1: Payments 
CBDC and future of payments
– Ryan McQueen, Accenture

Stream 2: Climate 
Is TNFD the new TCFD
– Sarah Barker, Minter Ellison

Stream 3: Scams and Fruad
Cyber resilience – critical issue from board level down
– John Macpherson, Ashurst

Stream 1: Payments 
Banking and Payments Systems in the Cloud- BustingRegulatory Myths

– Julian Busic, AWS

Stream 2: Climate 
Navigating ESG ratings and avoiding greenwashing
– Claire Rodgers, KWM

Stream 3: Scams and Fraud

Digital identity
– Annabel Griffin, KWM

Stream 1: Payments 
Navigating bias in machine learning and artificual intelligence (AI)
– James Gordon, Oliver Wyman

Stream 2: Climate 
Nature and Financial instituations impacts and opportunities
– Jason Eis, McKinsey

Stream 3: Scams and Fruad
Digital Security
– Robert Martin, Cyber Security Lead Oceania, EY

Dinner with Guest Speaker
Banking 2023 – Time of Transition

Day Two: Thursday 8 June
Registration open from 8am

Panel: The Australian Economy –
What Next and How Banking's Future Business Model Can Respond

– PWC Amy Auster
Additional panellists to be advised

Panel: Australia's financial system in the wake of offshore banking challenges. 

– Ian Paterson, KWM
– Jo Dodd, KWM
– Max Allen, KWM

Moderator: Berkeley Cox, KWM

The Changing Security Landscape
– Jacqui Kernot, Accenture

Digital Trust
– Olivia Loadwick, McKinsey

The risk of polycrises or the uncomfortable truth about ESG

Data opportunities and responsibilities
– Narelle Smythe, Ashurst
– Geoff McGrath, Ashurst

Womens Financial Safety 

– Catherine Fitzpatrick
– Julia Inman Grant, E-safety commissioner
– Leif Gamersfelder, CBA

Moderator: Claudine Salameh, Norton Rose

Unlock future potential through P&C
– Carla Murray, KPMG

Leadership – Pragmatic Thinking
– Darren Hill

Safeguarding Australia

– Andrew Eastwood, HSF
– Nicole Rose, AUSTRAC

Striking in the Right Reg Balance
– Alina Humphreys, Partner Fin Services, EY
– Anthony Shaw, CEO HSBC

ABA CEO Thanks
Anna Bligh, ABA